CANADA

1 CENT-George VI




1 CENT-Elizabeth II, youngest head


1 CENT-Elizabeth II


listed at 1p to 5p (05/02)


5 CENTS-12-sided




5 CENTS-round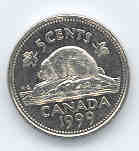 10 CENTS


25 CENTS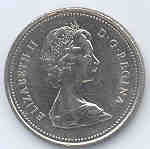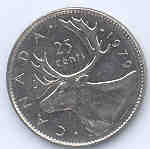 50 CENTS-.800 silver, George VI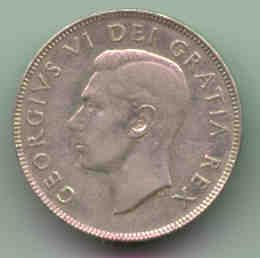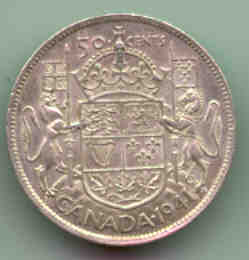 50 CENTS-.800 silver, Elizabeth II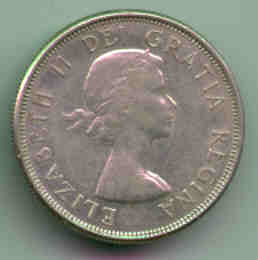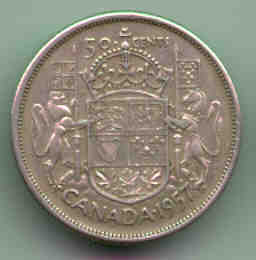 50 CENTS-.800 silver, Elizabeth II, modified reverse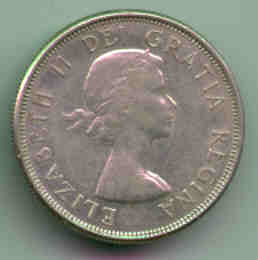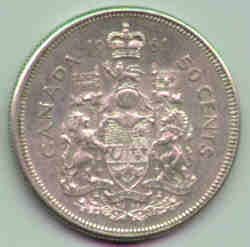 50 CENTS-nickel
(A reduced-size piece issued from 1968 onwards)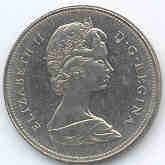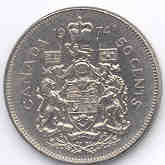 THE CANADIAN DOLLAR
The Royal Canadian Mint first minted a dollar coin in 1935. Interestingly, the U.S. mint ceased to mint silver dollars for circulation during the same year. The new coin was of the same fineness (.800) as the other Canadian silver coin denominations, and of proportionate weight (i.e. the dollar weighed twice as much as the fifty-cent piece). Its basic "Voyageur" design, named after the woodsman/fur trader of the French colonial period, endured until 1986.

DOLLAR-1939 commemorative (Royal Visit)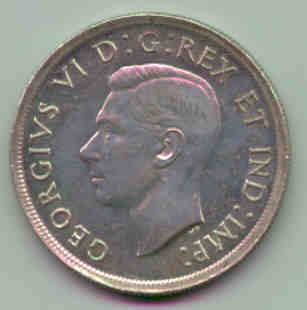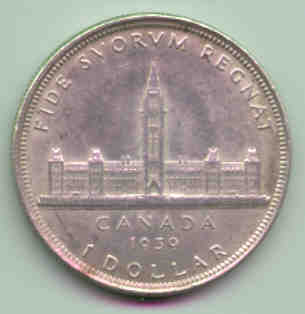 DOLLAR-1953-1963 type ("Voyageur")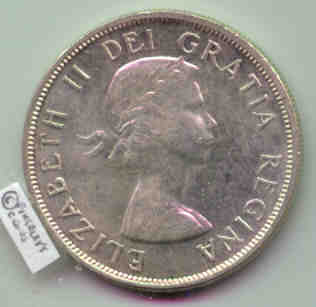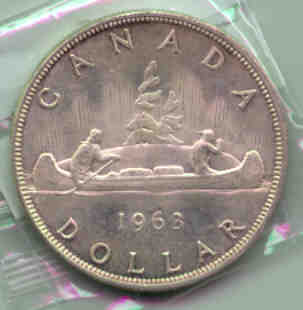 DOLLAR-1958 commemorative
(British Columbia's Centenary as a British province with defined borders)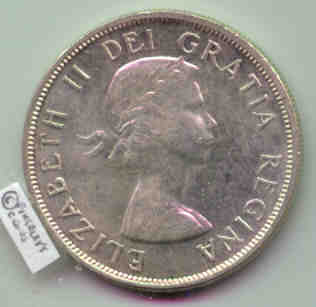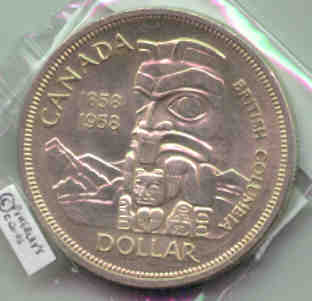 DOLLAR-1964 commemorative (Charlottetown and Quebec)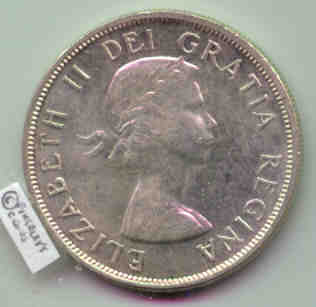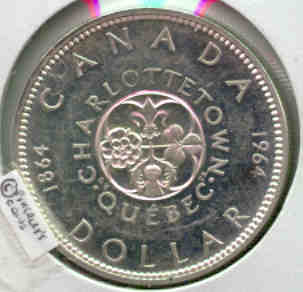 In 1965, the portrait of the Queen was changed.

DOLLAR-1965-1966 type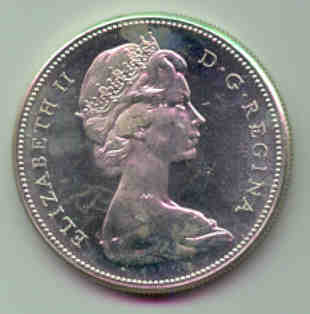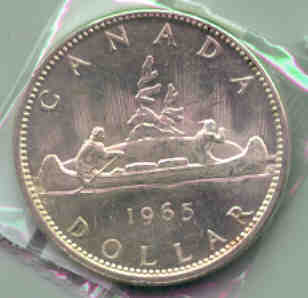 DOLLAR-1967 commemorative (Canada's Centennial)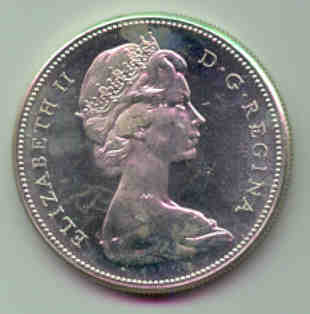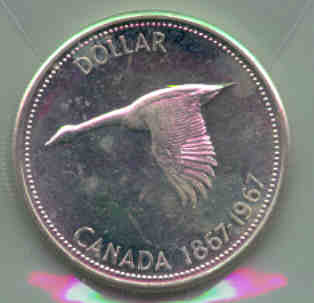 In 1968, the composition of the dollar was changed to nickel and its size was reduced, though the basic "Voyageur" design was maintained. The new coin did not circulate extensively, with the public preferring the one dollar note. Some dollars continued to be minted in silver for collectors.

DOLLAR-1968-1972 type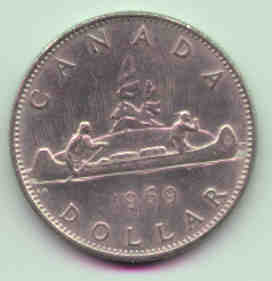 DOLLAR-1970 commemorative (Manitoba's Centennial)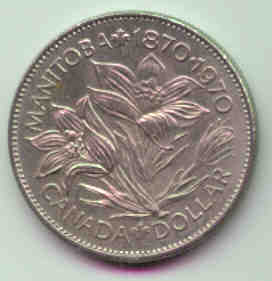 DOLLAR-1971 commemorative
(British Columbia's Centenary as a Canadian Province)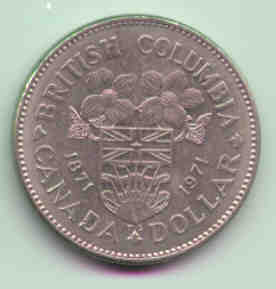 From 1973 onwards, the effigy of Queen Elizabeth was replaced by a somewhat smaller one.

DOLLAR-1973 commemorative (100 years of P.E.I. as a Canadian Province)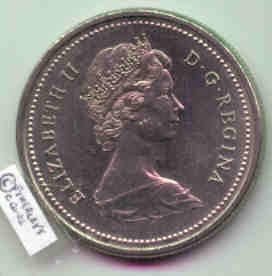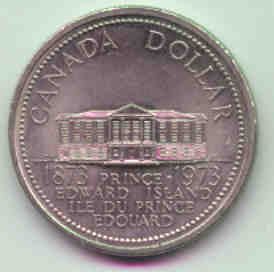 DOLLAR-1975-1976 type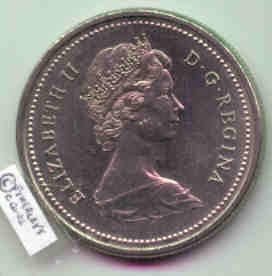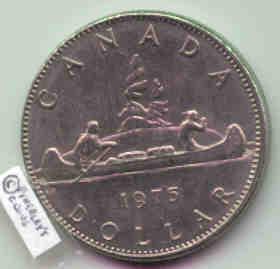 DOLLAR-1977 wide border type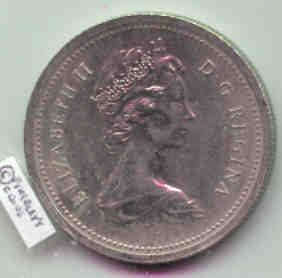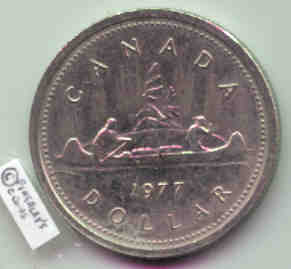 DOLLAR-1978-1987 type (similar to 1975-6)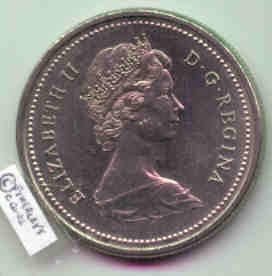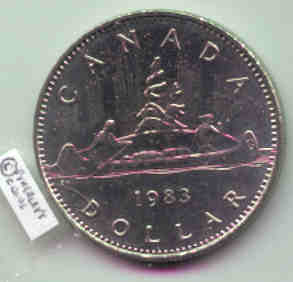 DOLLAR-1982 Constitution Commemorative
(In 1982, the Canadian Constitution was repatriated from Britain, thereby severing the remaining legacies of the old Dominion status, such as legal recourse to the Privy Council at London.)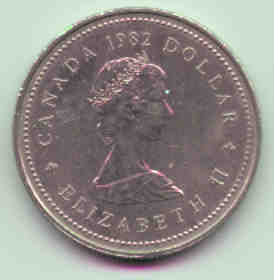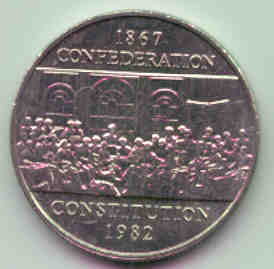 DOLLAR-1984 Jacques Cartier Commemorative
(Jacques Cartier "discovered" the Saint-Lawrence river in 1534)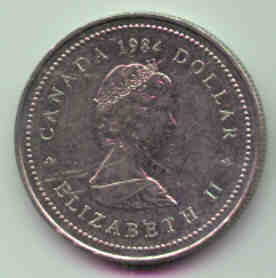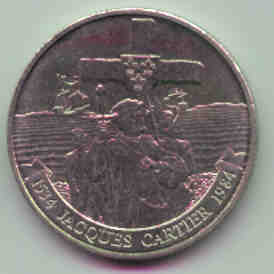 In 1987, the authorities decided to phase out the one dollar note and replace it with a smaller, gold-coloured dollar coin featuring a loon. The new coin rapidly became known as the "loonie".

DOLLAR-1987-1989 type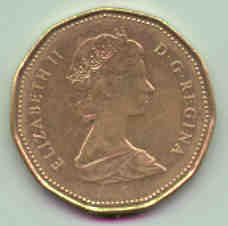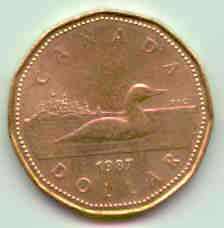 In 1990, the portrait of Queen Elizabeth, which had remained essentially unchanged since 1965, was finally updated to reflect Her Majesty's more advanced age.

DOLLAR-1990-2002 type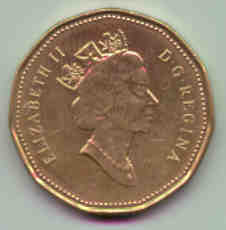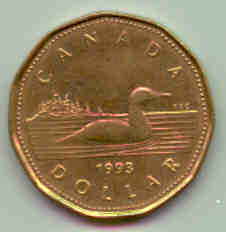 DOLLAR-1992 commemorative (Canada's 125th birthday)
A number of Provinces united in 1867 to create the political entity of Canada. A new Parliament was established at Ottawa.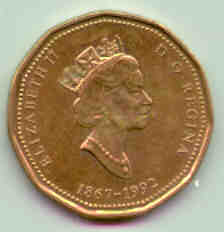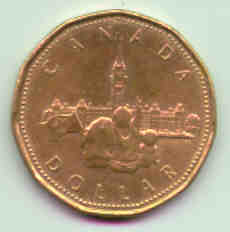 DOLLAR-1994 commemorative (War memorial)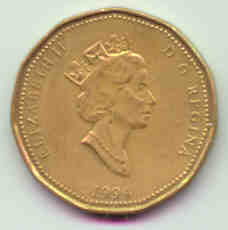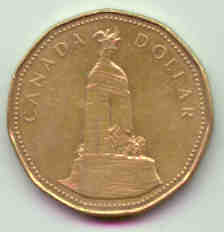 DOLLAR-1995 commemorative (peacekeeping)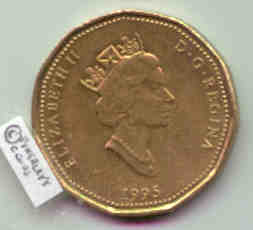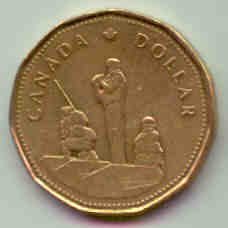 THE TWO-DOLLAR PIECE
The first bimetallic two-dollar piece was minted in 1996, as part of a scheme to save money by replacing the short-lifespan two-dollar note with a longer-lasting, cheaply minted coin.

2 DOLLARS-1996-2001 type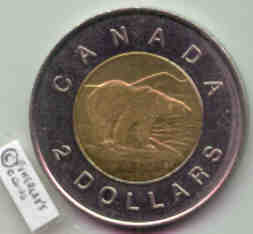 2 DOLLARS-1999 Nunavut Issue
This coin marked the creation of a new semi-autonomous territory in the Canadian arctic. The majority of the Territory's residents are aborigines.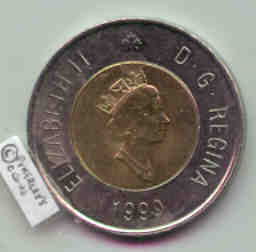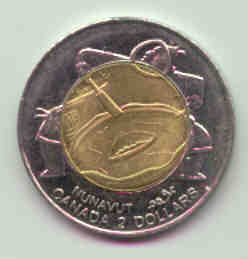 2 DOLLARS-2000 (knowledge)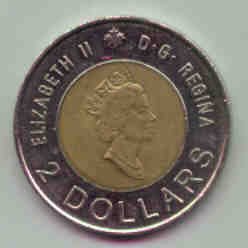 2 DOLLARS-2002 (Queen's Golden Jubilee)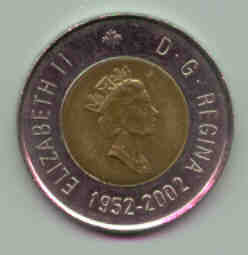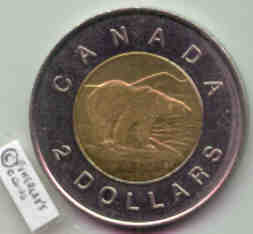 FIVE DOLLARS-Maple Leaf
(.9999 Silver, pure silver content 1.00 troy oz.)